Oh No! The LIVE interview was a BUST 🙁 Honestly the audio and video challenges were a mess. But what she says is so powerful that I didn't want to redo it or lose it.  I believe in finding a way.  And that is why editing is a wonderful thing.  I edited and did some voice over so you can hear all the gems Rachel gives us that are body transforming 🙂
What interview?
Lucky me – I got to interview Women's Health Expert Rachel Cosgrove on the Top 3 Ways to Drop TWO SIZES for ladies.  She literally wrote the book on Ditch the Scale & Drop Two Sizes.
#1 will shock you!
Check out our interview here:
>>>>>>>HOW TO DROP TWO SIZES LADIES​​>>>>>>
Yes we can DITCH THE SCALE 🙂 Yippie Yay!
PLUS get a copy Rachel's book Drop Two Sizes HERE​​.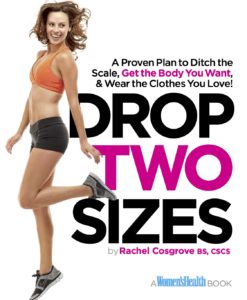 Go Check it Out!