Hey Y'all!
A friend of mine, Annelina, posts the most amazing foods. I got to try her recipe for a pita sandwich, and it was the greatest thing I've eaten in a long time! When you change your diet, it's so important to eat a rainbow of vegetables.
Your fitness journey is yours, but it helps if you can make delicious food that makes your tummy rumble and your heart sing. I fully believe that there is a time when you should stop counting the calories if the food is nourishing your body, mind, and soul. It's so important to eat food that truly nourishes you, enjoy healthy fats, lean proteins, and eat food that literally feels good in your belly. Many people don't know how that feels, and it's important to learn! From fighting disease to revealing your washboard abs, there are so many reasons to spend more time in the produce aisle ;D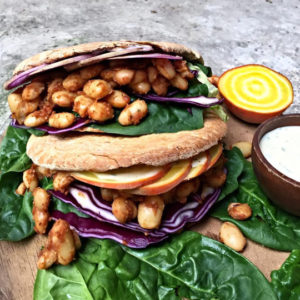 2 pita breads
For the beans:
1 cup white beans, cooked
1 tbsp Harissa paste
1 tsp tomato paste
1 tsp Agave syrup
½ tsp garlic powder
1 tbsp tamari sauce
2 tbsp water
Veggies of your choice as spinach, cabbage, beet
Hclf vegan mayonnaise (recipe on my blog)
Directions:
Heat pita 3 minutes in the oven
In a pan, mix all ingredients for your beans and heat until well combined (about 8 minutes)
Slice veggies and fill your pitas however you like to
Spread some mayonnaise on top of your veggies!
It was so good, I just had to share!
Happy Lifting!
Alli
Confidence Call:
A flower that blooms in adversity is the most rare and beautiful of all.
Ancient Chinese Proverb