Sunday, I was able to interview the author of The Perfect Day Formula, Craig Ballantyne.  Craig got his start in fitness and has been a mentor to me and I assure you the principals he teaches in this book do work. So, if you are feeling like your life is out of balance, you can find answers in The Perfect Day Formula.
One of my favorite quotes from The Perfect Day Formula is, "You will always want more time to be with your family and friends so use it. Don't look back and say why did I watch so much tv." Craig reminds us that we aren't going to remember all the wasted things in our schedule. Instead, we are going to remember the times we spent with those that we love or the time we spent reaching our goals. We need to quit TRYING to find time to do things like working out, make more money or have more time with our families and start MAKING the time.
Craig's book  helps you get started on realizing your life goals, and helps you prioritize to accomplish them. Today is the day to get started!

If you want this book Craig is offering free copies at the link below.
********Click this link to get your free copy of The Perfect Day Formula.********
What it boils down to according to Craig is that where we are in life is our responsibility. The key to life is taking care of our needs first so that we can then go and take care of others. Being your best self isn't being selfish!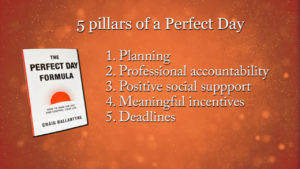 Craig has made his book available to my audience for a limited time at the link below. Craig travels all over the county providing inspiration and motivation. I encourage you to find out when he will be in your area, and attend his life changing seminars at perfectlifeworkshop.com.
I know you will be inspired by Craig, because I am.
-Alli
P. S. As mentioned in the video, the link to get your FREE copy of The Perfect Day Formula is listed below!!
****Click this link to get your free copy of The Perfect Day Formula.********