I love bananas!  They are great for energy and loaded with potassium!  I was actually having a craving for them so I played around with a banana pancake recipe that would give me more protein than regular pancakes but still taste yummy.  I ate them without syrup but added a few blueberries to top them off.  If you just have to add syrup, add just a little and then work at weaning yourself off the syrup and eventually just top them off with fresh berries.  These remind me of banana bread.  Enjoy!!!
Banana Pancakes
1 small banana
1 egg
2 egg whites
3/4 tsp baking soda
1 tbsp ground flax (optional)
1 tsp Vanilla Extract
Pinch of cinnamon
Berries to top it off
Olive Oil Spray for the pan
Blend all ingredients with a hand mixer or in a food processor.  Turn stove on medium heat.  Spray pan with Olive Oil.  Then pour in 1/3 of batter and cook both sides until golden brown.  Repeat 3 times for a total of 3 pancakes (spray the pan before cooking each one).  Garnish with berries and enjoy while warm.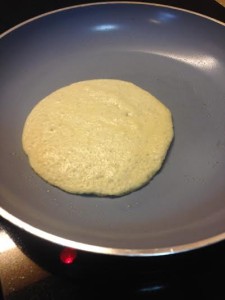 Nutrition Facts:
Protein = 16 grams
Carbs = 30 grams
Fat = 6.3 grams
Calories = 240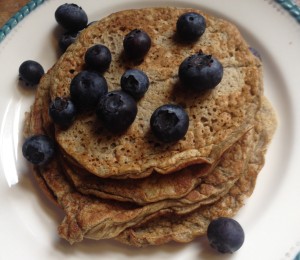 This recipe is pretty quick and very easy.  If you are pressed for time during the work week make it on a weekend when you are not in a rush.  Try them out and let me know in the comments below how you like them.